LE YAMAHA 250 TTR
Ce site répertorie un grand nombre de marque de moto du monde entier.
j'ai retenue pour le blog: Le TTR 250 Yamaha
Adresse:
http://www.motorcyclespecs.co.za/model/yamaha/yamaha_tt250r%2000.htm
Make Model

Yamaha TT 250R

Year

2000-01

Engine

Air-cooled, four stroke, single cylinder, DOHC, 4-valve per cylinder.

Capacity

249

Bore x Stroke

73 x 59.6 mm

Compression Ratio

10.3:1

Induction

TEIKEI Y30P carb

Ignition / Starting

CDI / electric

Max Power

28 hp 20.6 kW @ 8500 rpm

Max Torque

28 kg-m 275 Nm @ 7000 rpm

Transmission / Drive

6 Speed / chain

Front Suspension

Telescopic forks,

Coil air spring oil damper

,

280mm wheel travel

Rear Suspension

Monocross, 280mm wheel travel

Front Brakes

Single 245mm disc

Rear Brakes

Single 220mm disc

Front Tyre

3.00-21

Rear Tyre

4.60-18

Dry-Weight

113 kg

Fuel Capacity

12 Litres

Review

Motoring.co.za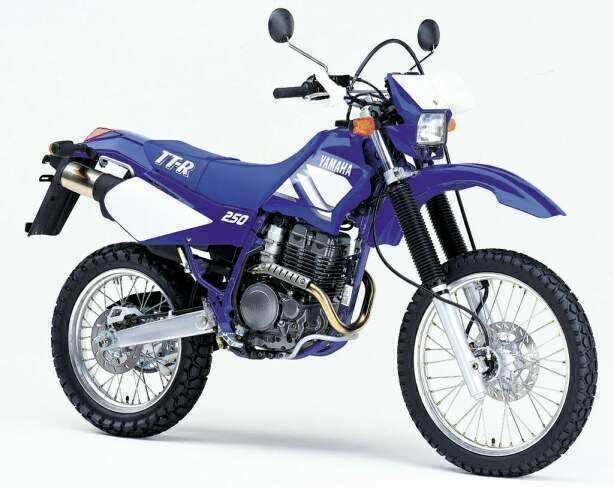 Sometimes it's a good idea to take a step back and ask yourself if the latest high-tech is actually necessary to accomplish the goal at hand; the Australians call the concept "appropriate technology" and it can save you a lot of hassles.

The aim in this case was to build a tough, no-nonsense, go-anywhere enduro bike that could master almost any terrain, fast enough to compete at Regional if not National level but without the hair-trigger responses that would scare rookies out of the sport - and make it street legal.

Enter the Yamaha TT-R250. 15kW is more than enough for a junior-class enduro bike so a sophisticated liquid-cooled engine isn't called for
The aim was to build a tough, no-nonsense, go-anywhere enduro bike
The TT-R250 has no vulnerable radiator and doesn't need a water pump – instead it's got closely spaced cooling fins.

It doesn't need a finicky fuel-injection system, so it has a neat 30mm Teikei slide carb – not even a CV diaphragm to split, Cyril! – that can be stripped and cleaned out with a compressed air nozzle if necessary.

It has a bulletproof, cable-operated wet clutch (who needs hydraulics on a 15kW engine, I ask you) and a slick six-speed transmission; no magic there.

But it also has a superbly efficient four-valve head with two overhead camshafts and a self-tensioning cam chain for a broad spread of power and lots of top-end punch, and CDI electronic ignition that never needs setting.
It even has an electric starter – and if you've ever stalled an enduro bike in the middle of nowhere on a hot day you'll know what I mean by appropriate technology
If you've ever stalled an enduro bike on a hot day you'll know what I mean by appropriate technology
It's good enough to take you up to 118km/h on the flat 'n level (I saw 132 with a bit of wind assistance, but that's cheating) and if you can go that fast off-road, you're ready for a pukka race bike, my china.

For the rest of us, the TT-R250 is more than fast enough to hold its own in the traffic and even to cruise at 105km/h on the freeway – returning less than five litres/100km if ridden sensibly – and grunty enough off the road to take you anywhere you can walk.

The test bike had a very jerky throttle response and often refused to idle; it was also extraordinarily cold-blooded, but I suspect this was due to a blocked idle circuit in the carb of the test bike rather than an inherent fault of the model – see comments on carb, above, Yamaha.

This 15kW cocktail shaker is housed in a tubular-steel, double cradle frame with a steel swing-arm fabricated from two oval tubes and a few thick pressings.

It's much heavier than current fabricated-alloy chassis but practically crash-proof – and if it does get bent any competent small-town engineering shop can bash it straight without compromising its metallic properties.

Plush suspension

But it has top-drawer, plush suspension with long, long travel, from 43mm Kayaba forks adjustable for pre-load and compression in front to a remote-reservoir monoshock from the same source with an on-the-fly damping adjuster under the left side of the saddle.

It keeps the bike controllable at silly speeds across open fields and really comfortable when picking your way across rocky terrain, so you can concentrate on where you're going rather than on the bashing your butt is taking.

The suspension is a little soggy on the road but adequate within the limits of the standard knobbly tyres; if you converted the bike to a motard with 17" rims and sticky road tyres you'd soon tie the suspension in knots – but that's not what this bike is for.

Serious brakes

The only time the suspension isn't up to the call of duty is under braking; the TT-R250 has serious disc brakes at each end and, even with two fingers on the handlebar lever, it's possible to induce enough front-end dive to make the front end misbehave a little, especially on wet roads – did I mention that it rained during the test?

The rear brake is also sharper than expected, great for inducing big roosters on gravel roads but possibly more than's needed on tar. Still, I'd rather have too much braking than too little.

The simple, plastic fuel tank and body panels are perhaps a bit more solid than they need to be, but if the state of the hard-used test bike is anything to go by that's not such a bad thing; even after more than 13 000km of abuse all it needed was the scratches buffed out and a new set of self-adhesive graphics and it'd look good as new.

Basic instruments

The styling is modern, with the tank enclosing the top of the engine as if to protect a non-existent radiator and not much rise to the long, narrow saddle, but the latter isn't quite as plank-like as it looks and the bike is surprisingly comfortable for a couple of hours at a time.

The instrumentation is basic in the extreme; just a small, quarter-quadrant speedo, trip meter and three idiot lights – the bottom left panel is a blank – but, once again, that's what's needed on this bike.

If the TT-R250 250 looks strangely familiar, it should; Yamaha has sold a number of them to the SAPS, which uses them to chase the bad guys all over our inner cities and in other scenarios where normal police vehicles are at a disadvantage.

And if the cops, who use the bikes as the tools of their trade rather than as weekend toys, can't break them - neither will you.

catalogue:
http://www.pieces-yam.com/yamaha-pieces-catalogue-26359-13.html
Membres qui aiment ce contenu